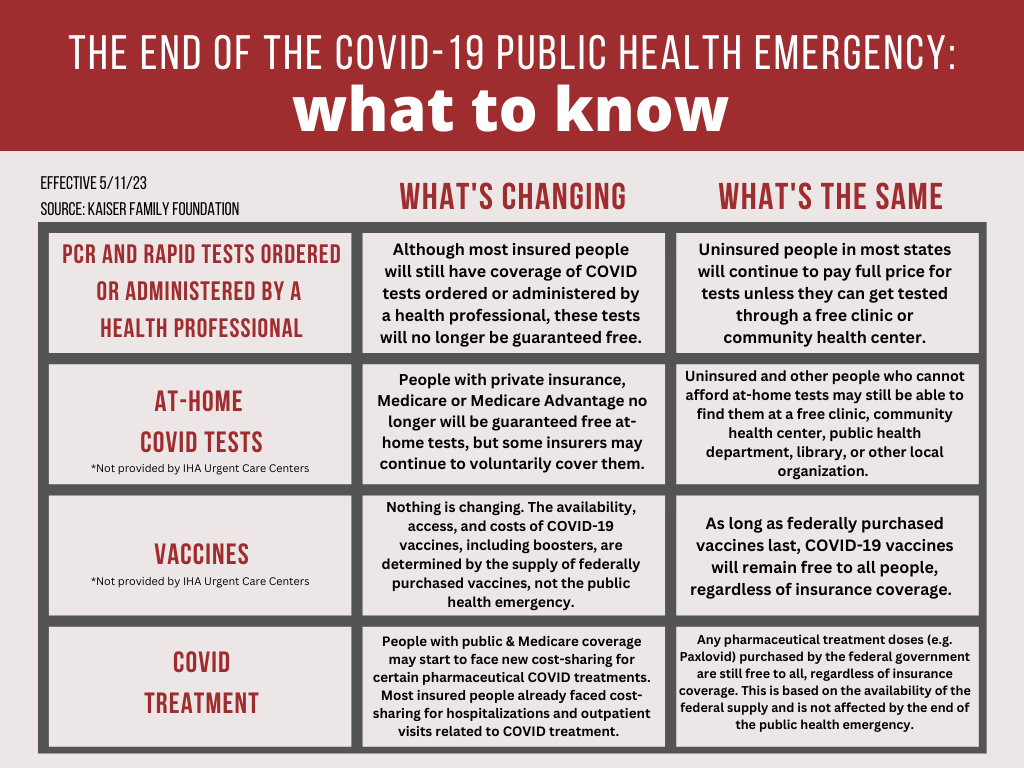 COVID-19 testing available at these IHA Urgent Care locations:
*Please be advised that an administered COVID-19 test must be accompanied with a medical visit. Check in to an IHA Urgent Care location near you or start a virtual visit using our Telemed Medical Platform.
You are safe and welcome at IHA Urgent Cares.
Patients who are experiencing any non-life-threatening injury or illness are welcome at our locations. If you have symptoms of COVID-19, we will assess your condition and help determine the necessary next steps.
Rest assured that we are keeping all of our facilities safe and sanitary by following all guidelines from the CDC and local health departments with:
Reinforced disinfecting processes across all rooms, tables, chairs, computers, door handles and surfaces with EPA-registered cleaning products.

If your visit requires entering the center, rest assured, we are welcoming only one patient at a time in the waiting room.

Personal protective equipment (PPE) for our staff as well as patients in need. All symptomatic patients will be provided with a face mask.

Enforcing in-car triage for all patients.

Expanded telemed services with IHA Telemed Screenings to ensure our providers are available for those who need or prefer to receive care from home or your vehicle.
COVID-19 FAQs & Important Updates
What is the cost of COVID-19 Testing?
The cost for the test is $50, however insurance companies are directed to pay 100% of the cost. Please be advised that an administered COVID-19 test must be accompanied with a medical visit, and there may also be a fee for your office visit, dependent on your insurance coverage.
What brand of COVID-19 testing are you using?
Where are you administering COVID-19 tests?
If you are requesting the COVID-19 Virus Test, we will administer to you from your vehicle. If you are requesting the COVID-19 Antibody Test, this requires a blood draw and will be administered inside of our center. Rest assured, we are welcoming only one patient at a time in the waiting room.
When can I expect the results of my COVID-19 test?
COVID-19 virus test results are returned to us within 2 to 4 business days. Our medical team calls every patient who has been tested to report their results, regardless of whether it's positive or negative.
I'm worried about being exposed to COVID-19 and want to limit my time in the center. Can I wait in my car until it is time for my appointment?
Yes. When you use our Telemed Medical Platform we will text you when it is time to be seen. By checking in online and completing the registration process, you can go from your car right to an exam room.
I have a non-life-threatening illness or injury that's not related to COVID-19. Can I still come to IHA Urgent Cares for treatment?
Yes. We're still treating patients at all of our urgent care locations. Our centers are safe and designed to ensure you are not exposed to COVID-19. To help with this process, all patients must check in online here or if you do not have internet access, please call ahead and speak with an operator. This will save you time and help us safely prepare for you and other patients.
What are the symptoms of COVID-19?
Symptoms can appear within 2-14 days of contracting the virus, and they can range from mild to severe. The symptoms include:
Cough
Shortness of breath or difficulty breathing
Fever
Chills
Repeated shaking with chills
Muscle pain
Headache
Sore throat
New loss of taste or smell
How long do I have to wait after being sick to get an antibody test?
At least ten days post symptom onset of suspected COVID-19.
Please note: The health and safety of our patients and team members is our top priority. As such, we respectfully ask that our adult patients do not have visitors accompany them to the center during their visit. Respectfully, we request only one parent or guardian accompany pediatric patients during their visit.